Venezuela is suffering one of the most severe humanitarian crises that the world has ever seen from a country not at war. The shortage of food and medicine in the country has affected the vast majority of the population where there are increases in malnutrition, resurgence of illnesses that had been eradicated for decades, rampant hunger in the population, among other tragic consequences.
The social rot of the political and economic debacle in Venezuela has not slowed, and as always, those who are most affected are the most vulnerable populations. Although according to official numbers the unemployment rate in 2017 was below 6% compared to 7.5% in the previous year, these numbers are contrasted with the IMO according to which the Venezuelan unemployment rate passed 18.1% in 2016 to 51.4% in 2018.
The depreciation of State finances runs concurrently with the impoverishing of the bulk of its population, being the middle class that has worn the worst of it, due to the precariousness of those getting into it and the loss of purchasing power. It's as if it had created a collective plateau, below the weight of the mediocrity of economic growth and lack of opportunities, which has translated into a high index of migration, which has in turn translated into a loss of educated talent and the main base of a nation: its society.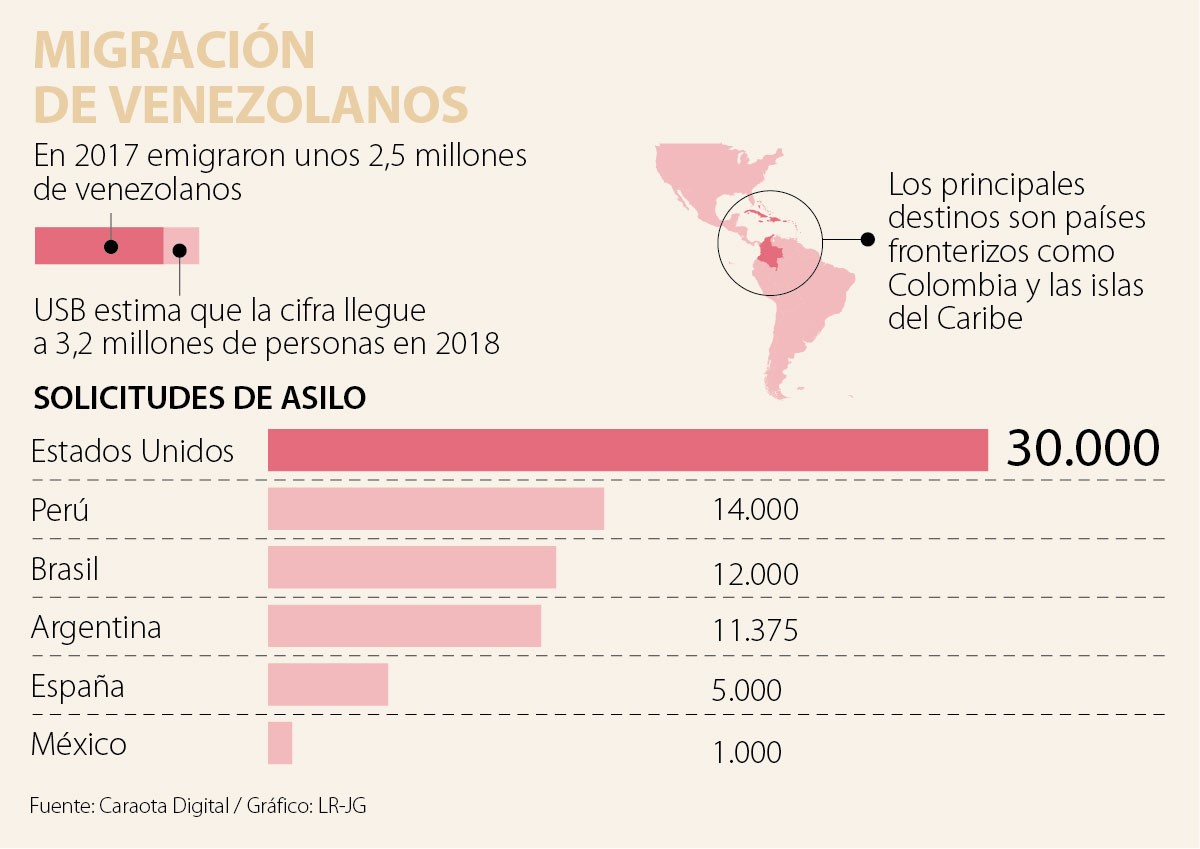 (A measurement of asylum requests)
According to official stats, in 2017 the maternal mortality rate increased by 65%, with infant mortality going up 30% and cases of malaria by 76%. According to unofficial stats collected by universities and Venezuelan civil society organization, the majority of Venezuelans have changed their nutritional habits, including many who are now just eating once per day. The cases of malnutrition sharpens with children below 5 years of age increasing from 8.9% in the last trimester of 2016 to 10.2% in the first two months of 2017, a fact that puts Venezuela above the limit  which according to the WHO, constitutes a crisis. According to Caritas Venezuela and the Report on Poverty and Human Rights of the Inter-American Commission on Human Rights, this has generated an unprecedented growth in emigration (which has motivated more analysis), which creates a case of refugees: "the humanitarian crisis that Venezuela finds itself up against as a consequence of the shortage of food and medicine has also forced many Venezuelans to migrate to other countries in the region."
The point is, if there are distinct opinions of the causes, there is a firm agreement that something is happening and needs to be confronted. There is a crisis and humanitarian help is being offered by other countries and institutions.
The latest declarations by the United Nations has established that the start of international cooperation, for reasons of solidarity, requires governments to offer and accept humanitarian aid, with oversight and/or co-administration from truly independent, non-governmental entities , precisely to avoid the evolution of corruption. The reduction of poverty and hunger are key and central objectives of the millennium, in order to fulfill the Declaration of the Millennium.
The vast majority of Venezuelans are being forced to juggle to find food typical for middle aged people. Many are eating just once per day, a reality from which I am not exempt.
In general we see political prisoners, hunger, excessive immigration, and the loss of academics. We as Venezuelans are already refugees of a nameless war, but a war that is destroying us nonetheless.
Many Green youth have had to emigrate under duress to avoid being detained from participating in peaceful protests, as is the case with Nixon Leal and Gerardo Carrero, who have both been in prison for over two years due to the regime of Nicolas Maduro; today it is their families who are most affected.
I denounce the unjust detention of young, Green students who have been imprisoned for 14 months, including Kenny Colmenares, Alex Gonzalez and Mitchell Sosa.
I beg the help of the Green community.
Venezuela is aimless; are we at war? The symptoms would indicate that it is so.
——————————————–ESPAÑOL———————————————-
¿Qué está pasando en Venezuela?
Venezuela está sufriendo una de las más severas crisis humanitarias que el mundo haya visto en un país que no está en guerra. El desabastecimiento de alimentos y medicinas en el país ha afectado a la gran mayoría de la población donde se está viendo incrementos en los índices de malnutrición, resurgimiento de enfermedades erradicadas en el país décadas atrás, un hambre rampante en la población, entre otras trágicas consecuencias.
Los estragos sociales de la debacle política y económica de Venezuela no se hicieron esperar y, como siempre, quienes llevan la peor parte son las poblaciones más vulnerables. Aunque según cifras oficiales, el desempleo en 2017 bajó a 6%, frente al 7,5% del año anterior, estas cifras contrastan con las del Fondo Monetario Internacional, según las cuales el desempleo en Venezuela pasó de 18,1% en 2016 a 51,4% en 2018.
El envilecimiento de las finanzas del Estado corre parejo con la pauperización del grueso de su población, siendo la clase media la que ha llevado la peor parte, debido a la precarización de su ingreso y a la pérdida del poder adquisitivo. Es como si se hubiera producido un aplastamiento colectivo, bajo el peso de la mediocridad del crecimiento de la economía y la falta de oportunidades, lo cual se traduce en un alto índice de migración y esto se traduce en una fuga de cerebros y principal base de una nación su sociedad.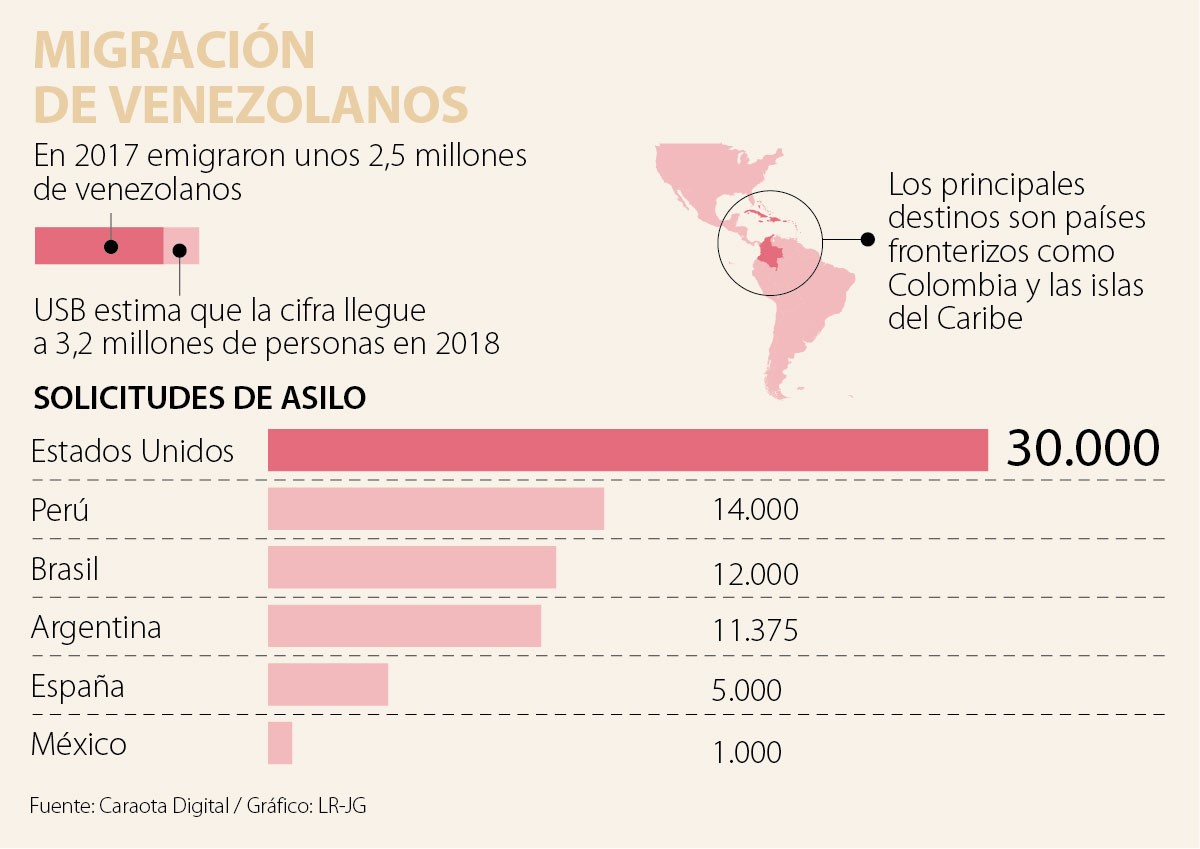 Según estadísticas oficiales, en 2017 la mortalidad materna aumentó un 65 %, la mortalidad infantil un 30% y los casos de malaria un 76 %. Según datos no oficiales recabados por universidades y organizaciones de la sociedad civil venezolanas, la mayoría de los venezolanos han modificado sus hábitos de alimentación, incluyendo muchas personas que comen una vez al día. Los casos de desnutrición aguda global de niños menores de 5 años aumentaron del 8,9 % en el último trimestre de 2016 al 10,2 % en los dos primeros meses de 2017, un dato que sitúa a Venezuela por encima del límite de lo que, a criterio de la Organización Mundial de la Salud, constituye una crisis, según lo señaló Cáritas Venezuela y, el Informe sobre Pobreza y Derechos Humanos de la Comisión Interamericana de Derechos Humanos (CIDH) que además ha generado un proceso sin precedentes de fuerte emigración (que empieza a motivar que se analice si se trata de un caso de refugiados: "La crisis humanitaria que viene enfrentando Venezuela como consecuencia de la escasez de alimentos y medicamentos también ha conllevado que muchos venezolanos hayan tenido que migrar a otros países de la región".
El punto es que, si hay opiniones distintas sobre las causas, hay acuerdo acerca de que algo pasa, y debe ser afrontado. Hay crisis y la ayuda humanitaria está siendo ofrecida por otros países e instituciones.
Las últimas declaraciones de las Naciones Unidas han establecido que el principio de cooperación internacional, por razones de solidaridad, exige que los gobiernos ofrezcan y acepten la ayuda humanitaria, pero ojo, con coadministración y/o supervisión de parte de entidades no gubernamentales realmente independientes, precisamente para evitar los desvíos de la corrupción. Particularmente la reducción de la pobreza y del hambre es una de las metas centrales de los objetivos del milenio, en cumplimiento de la Declaración del Milenio.
La gran mayoría de los venezolanos hacen malabares para encontrar comida, típico de la edad media. Muchos comen una sola vez por día, y de esa realidad yo no quedo exento.
Eso en el ámbito general, presos políticos, hambre, atraso, inmigración desmedida, fuga de cerebros. Los venezolanos ya somos refugiados de la guerra que no tiene título de guerra pero destruye como tal.
Muchos jóvenes verdes han tenido que emigrar luego de haber sido detenidos en protestas de manera injusta, como es el caso de Nixon leal y Gerardo Carrero con más de 2 años en prisión por el régimen de Nicolás Maduro, hoy son sus familias las más afectadas.
Denuncio la injusta detención de los jóvenes verdes estudiantes, desde hace 14 meses de manera injusta Kenny Colmenares, Alex González y Mitchell sosa.
Pido la ayuda de toda la comunidad de jóvenes verdes.
Venezuela, se encuentra sin rumbo, ¿estamos en guerra? Los síntomas dicen que sí.
By Gregorio Blanca