GYG introduction video
In this GYG introduction video, you can find out more about who we are and what we are working on!
Structure
GYG is a network that includes four federations (Africa, Americas, Asia-Pacific, Europe) and has a total of ca. 80 member organisations. GYG's highest decision making body is Congress (held every ~4 years). In between Congresses, the Steering Committee organises the work of GYG, and is overseen by the Oversight Committee.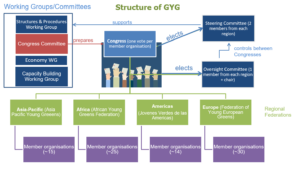 Find out more about our structures and rules on the documents page.
History
The Global Young Greens were established in the year 2007 by a team of like-minded young people from all over the world while attending the World Social Forum in Nairobi, Kenya. The establishment of GYG also served as the first GYG Congress. The subsequent congresses were in Berlin in 2010 and in Dakar in 2012.
The Global Young Greens is an emerging youth-led organization supporting and uniting the efforts of young people from a green-alternative spectrum around the world. It works towards (1) ecological sustainability, (2) social justice, (3) grassroots democracy and (4) peace.
Goals
Our objectives are:
To empower young people within the framework of participatory democracy;
To create a space for young people to be active without being dominated by older generations;
To address inequalities between organizations and individuals;
To forge strong links between sectors and organizations;
To further the Green principles on planet Earth.
More precisely, we are striving for the following principles on the local, national, regional as well as global level:
Protection and restoration of the environment and respect towards animals;
Sustainable, equitable and just development;
Social Justice;
Grassroots, participatory and global democracy, and in particular empowering young people to participate and build more democratic societies;
Peaceful and non-military conflict resolution, arms control, disarmament;
Gender justice and empowerment of women;
Inter-generational justice, in particular empowerment of youth and children;
Freedom from discrimination on any grounds whatsoever and equality for all;
Empowerment of marginalized and disadvantaged people;
Just globalization and fair trade;
Personal freedom on the basis of universal human rights;
The right of all people to self-determination, particularly indigenous people.
Activities
Our activities include finding opportunities for young people to get involved in our work, linking individuals and organizations with each other for various purposes as well as carrying on campaigns as GYG. Find out more about our activities here and here.