Call for applications: Congress prep-team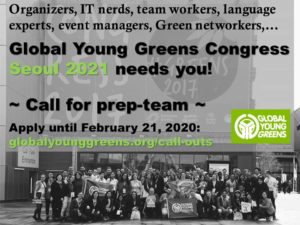 Location of Congress: Seoul, South Korea
Date: end of June 2021
Applications for prep team open: 21 January 2020
Deadline for applications: 21 February 2020, 23:59 CET
The Global Young Greens is an international organization consisting of Greens under the age of 35 from political and environmental movements all around the world. Part of the Global Greens movement, we ascribe to the Global Greens Charter and its core values of Ecological Wisdom, Respect for Diversity, Non-Violence, Participatory Democracy, Sustainability and Social Justice.
The Global Young Greens were established in the year 2007 by a team of like-minded young people from all over the world while attending the World Social Forum in Nairobi, Kenya. The establishment of GYG also served as the first GYG Congress. The subsequent congresses were in Berlin in 2010, in Dakar in 2012 and in Liverpool in 2017.
The Global Young Greens Steering Committee has started planning for the fifth GYG Congress to be held in Seoul, South Korea in June of 2021. Extremely cognisant of the heavy carbon budget associated with air travel, the Global Greens are looking for innovative ways to grow our movement globally and raise the profile of our work while also managing emissions on essential in-person work. We will be looking for many fresh ideas on how we can make this Congress a massive success!
Core aims of Congress:
Raise awareness and the profile of the Global Young Greens
Develop collaborative efforts between Member Organizations of GYG
Strengthen relationships between MOs and build global cooperation
Share skills and experiences from local movements
Prep team info:
As the Global Young Greens are focused on inclusive, global participation, the Congress prep-team will have geographical and gender balance, as well as solid experience in the field working with Green Parties and/or conferences. At least one member will be from the GYG Steering Committee, as well as from the Global South and South Korea.
The prep-team will meet in person at least once (dates yet to be decided), and will otherwise meet regularly online, typically through Google Hangouts. Depending on the size of the team, we may use Zoom.
There are many tasks to complete for Congress, and a wide variety of skills will be needed. Here is a list of many major skills and roles that are required for the prep team:
Proficiency in spoken and/or written English (multilingualism is ideal)
Outreach to Green Parties around the world (there are ~100)
Developing seminars, workshops, social events for Congress
Managing participants (travel, accommodations, visas, food, etc)
Fundraising, budgeting, financing
Digital design, social media management, online participation management
Event management, planning, promotions and monitoring
While Congress is still over a year away, this is a big workload that will require consistent participation from members between applications opening through to Congress in June 2021 and still after for debriefing and reporting.
What's in it for you?
Work with a diverse, global youth-led team to organize the most important Congress ever for Young Green activists
Gain experience in international event organization
Participating at GYG Congress 2021
Work in an intercultural learning environment
Connect local, grassroots activism to transnational climate change governance
Amplify young people's voices and participation in climate activism
Make lifelong friends from all around the world 🙂
As mentioned previously, the majority of the team meetings will be done online, so personal time management and productivity will be of the utmost importance. This is not a small commitment, but with a fully participatory team, it doesn't have to be hard, and in fact can be fun!
If you are interested in being part of this dynamic team, or if you would like to find out more, please send a letter of interest and a brief resume about yourself, including the name of your member organisation, skills you could contribute and (a) role(s) you would be prepared to take in the prep-team, to ian@globalyounggreens.org . Please note the maximum age of 35.