Impressions
Here you can find daily reviews, workshop reports and a lot of pictures of the 2nd GLOBAL YOUNG GREENS CONGRESS in Berlin. Just click the days below to get informed about what happened at these days!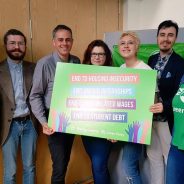 2017 will see elections across the world, of huge opportunity and importance to Greens. In this short series, we'll be speaking to a number of Young Greens seeking election. Later this year, we'll catch up with them to see how they got along! Hannah Ellen Clare – Young Greens of England and Wales Hannah features in the centre, with Co-Chair of the Green Party of England and Wales Jonathan Bartley to her left, and fellow young greens following the launch of their youth manifesto. How old are you? I am twenty four. Tell us about the election, and the constituency you are standing in! I am standing in my hometown of Harlow, Essex and this is the first time I've stood as a general election candidate. I have stood in the local elections before, both in Harlow and in Liverpool, where I went to University. This is the second election where we have had a Green candidate for Harlow, and I am the only woman standing out of all parties this time round. Why did you decide to stand? In the last election in 2015, nearly 1000 people voted Green in Harlow – it's not a lot, but it did place us fourth and I want to build on that. As a bellwether constituency, I thought the people of Harlow deserve another option; one that will stand up for people and planet. How did you get selected by your party? We ran an open selection process for all members of Harlow Green Party and I was the only candidate who came forward. How did the public respond to you as a youth candidate? I've completed a few hustings so far and the response has been positive; people have generally said nice things after and while I have felt patronised at times by other candidates, I haven't had anything negative from the most important people – the voters. What advantages or disadvantages do you think there are being a young person in this election? I think I am more able to connect with some people, because I don't seem so male, pale and stale and generally I haven't found any disadvantages. Anyone who tries to dismiss my age should ultimately realise that I've been involved in politics for 10 years: first as a youth councillor and then leading to where I am now as Co-Chair of the Young Greens. My age doesn't really equate to how ready I am to be an MP! In your country, what are the main challenges you feel young people face? I think we have unstable housing, low wages (in comparison to those older) and we leave education with too much debt. In England and Wales, the Green Party would scrap tuition fees, introduce a living rent to provide more stable housing and scrap age-related wage bands. And finally: how do you consider your chances? I'm not expecting to be Harlow's next MP but I am passionate about providing an alternative for Harlow and I think by standing as a candidate I am enabling voters to have that choice. You can follow Hannah's progress via her Facebook, Twitter, or the Harlow Green Party website. ...
read more
What is Greens2017? In March 2017, the Global Greens, European Green Party, Global Young Greens and Green Party of England and Wales are holding their congresses at the same time in Liverpool, United Kingdom. Collectively, these events form Greens2017. Why does it matter? This is going to be the biggest gathering of Greens ever. The world is facing a looming environmental disaster that can only be solved with international cooperation, and the Green movement is going to be crucial in delivering the change we need. Who are Global Young Greens? Global Young Greens (GYG) is the international network representing Young Green groups working for peace, democracy, social justice and ecological sustainability. We were founded in 2007 in Nairobi, and this will be our 4th congress. It will also be the biggest and most important, defining the direction of the international Green movement for many years to come. What's going to be happening at Greens2017? The full programme is still to be finalised, but it will have inspiring speakers, fringes, workshops and plenaries. How about the Global Young Green part? This congress will see the relaunch and revitalisation of GYG. It will be an opportunity to develop links and share knowledge with groups  from around the world, and help develop the truly international, politically relevant movement Young Greens need to be part of. It's also going to be a great chance to meet up with likeminded young activists from across six continents.  Anything else? We will also be electing a new Steering Committee, amending our constitution and deciding our programme for the coming years. There will be training sessions and structured discussion on how to further international cooperation.  How do I get involved? Tickets are on sale now, and Global Young Greens is currently contacting Young Green organisations to invite them to send delegates. If you'd like to volunteer to support the congress, email jeroni@globalyounggreens.org This sounds awesome, and my Young Green group would love to send delegates. If you haven't been contacted already, email our participation team at joseph@globalyounggreens.org, specifying the name and nature of your organisation, where you operate, and which international organisations it is currently part of. How much will this cost? Global Young Greens has put together a breakdown of costs and funding options here. Will Global Young Greens be covering expenses of delegates? In order to ensure a truly global participation, we aim to fund the travel of at least one delegate from each Young Green group. Our funds are limited, so we will be focusing our funding on delegates from countries who would not otherwise be able to attend.  Full details and an application form can be found here.  In case of questions relating to the funding, feel free to contact zuzana@globalyounggreens.org. I am interested, but might not be able to get to Liverpool. We are doing all we can to facilitate your participation – we are currently running a survey so you can let us know what you want from Global Young Greens. What you are doing is great, and I want to donate to support your work! Great! You can donate here, or email Zuzana at zuzana@globalyounggreens.org How can I get regular updates about the Congress? Join our mailing list here, and follow our facebook event here.  I have other questions that aren't...
read more